[:en]
Crato is a Portuguese village in the area of Portalegre district with a resident population of 1800 people.
It is head of a municipality with an area of 388.03 km² and a total of 3835 inhabitants (2006) which is divided into 6 parishes. Crato municipality is bordered in its northeast side by the municipalities of Gavião, Nisa and Castelo de Vide, on the east side by Portalegre municipality, on the southeast side by the municipality of Monforte and on the southwest side by the municipalities of Alter do Chão and Ponte de Sor. .
History of Crato
In 1048 Napolitano merchants from Amalfi were enlarging the services provided to pilgrims by founding in the city of Jerusalem the hospital of Saint John the Baptist. The congregation running the hospital ended up by becoming an Order. The Order of Saint John the Baptist or The Hospitallers with authonomy under its own charter. Later on it was charged with the military protection of the Holy Land. Thus, as for other military orders the Hospitallier monks divided their time between charity work and military duties.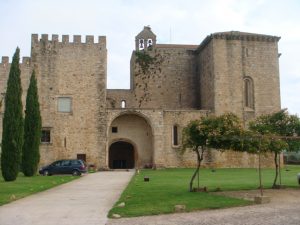 With a vast prestige and spread throughout Europe the Order organized itself by Language and Nation, as follows: in Provence, in France or in Paris, in Auvergne, in Italy, in Germany, in Aragon, in Castile or in Portugal. Each one of these houses was divided into Priories from which depended the Commendations. Internally the friars were grouped according to their rank in nights, servants and chaplains. Theirs vests were black with a white cross over the shoulders and chest.
The arrival of The Hospitallier knights must have happened between 1114 and 1132. According to documentation of the time it was D.Teresa, widow of count D.Henrique, which donated the lands of Leça where the Order built its first house, the Monastery stronghold of Leça do Bailio.
Like other military Orders the warrior Hospitaller friars will distinguish themselves in the struggle for the recovery of territories occupied by Muslims. Thus, as the conquests advance to the South the Order of Saint John of Jerusalem also spreads its domains. During this time D.Afonso Henriques grants the Order the churches of S. João do Alporão in Santarém and the church of S.Brás in Lisbon together with the Commendation. The following king grants them the castles of Cernache do Bonjardim and Sertã together with a vast area of land near the Tajo River where the knights will build the Belver castle.
The administration and govern of the Order is transferred to this location and during the following rulers the donations continue throughout the country, not only to the South but also to the areas of Trás-os-Montes and Beiras.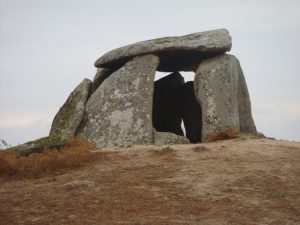 Support given by the Priory of Crato to D.Beatriz losing party during the 1383-1385 political crises risked the power and prestige the Hospitaller knights achieved during the conquest struggles. With the rise of king D.João I to the throne, the Order is "forgotten" and will only be rehabilitated by king D.Afonso V as a recognition for the support given to his mother during the regency of his uncle D.Pedro.
With king D.Manuel pursuing a centralization policy, the Order elects for the last time a Prior independent from the crown by the name of D.Manuel de Noronha da Câmara. The following king shall call upon himself the nomination for the office, giving it to his brother Infant D.Luís. The situation will remain unchanged until 1789 when queen D.Maria I obtains from Pope Pio VI the Papal Brief "Expedit Quam Maximc" which separates definitively the Priory of Crato from the International Order. This way the religious rights are transferred to the Holy Church while lands and properties go to the Infancy House rule, instituted by King D.João IV for the second sons of Portuguese Monarchs.
[:pt]
O Crato é uma vila portuguesa do Distrito de Portalegre, com cerca de 1 800 habitantes.
É sede de um município com 388,03 km² de área e 3 835 habitantes (2006), subdividido em 6 freguesias. O município é limitado a nordeste pelos municípios de Gavião, Nisa e Castelo de Vide, a leste por Portalegre, a sueste por Monforte e a sudoeste por Alter do Chão e Ponte de Sor.
História do Crato
Em 1048, mercadores napolitanos de Analfi alargavam o serviço de apoio a peregrinos, fundando, na cidade de Jerusalém, o hospital de S. João Baptista. A congregação que dirigia o hospital acabou por se transformar numa Ordem, a de S. João de Jerusalém ou do Hospital, com autonomia e regra própria.
Posteriormente, acrescenta-lhe uma função de protecção militar. Assim, e à semelhança do que acontecia com outras Ordens militares, os freires da Ordem do Hospital dividiam o seu trabalho entre a acção benemérita directa e a acção guerreira cavaleiresca.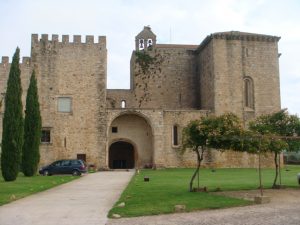 Com todo o prestígio adquirido e já com casas espalhadas por toda a Europa, esta Ordem organizou-se segundo Línguas e Nações. A saber: da Provença, da França ou de Paris, de Auverne da Itália, da Alemanha, de Aragão e de Castela e Portugal. Cada uma delas subdividia-se, por sua vez, em Priorados de que dependiam as Comendas. Internamente, os freires agrupavam-se, segundo a sua categoria, em: cavaleiros, serventes e capelães. De hábito e manto negros apresentavam uma cruz branca sobre o ombro e sobre o peito.
Em Portugal, a chegada dos cavaleiros hospitalários deve ter-se dado entre 1114 e 1132. Segundo documentação coeva, foi D. Teresa, viúva do conde D.Henrique, quem terá feito a doação das terras de Leça onde a Ordem virá a levantar a sua primeira casa, o Mosteiro-fortaleza de Leça do Bailio.
À semelhança do papel desempenhado pelas outras Ordens militares, os frades guerreiros do Hospital vão distinguir-se na luta pela recuperação dos territórios ocupados pelos muçulmanos. Assim, e à medida que a Reconquista avança, a Ordem de S. João de Jerusalém vê os seus domínios estenderem-se para Sul, sendo que D. Afonso Henriques lhes acrescenta a igreja de S. João do Alporão de Santarém e a igreja e a comendadoria de S. Brás em Lisboa. No reinado seguinte, são-lhes entregues os castelos de Cernache do Bonjardim e o da Sertã, assim como uma larga fatia terras, junto ao Tejo, onde os cavaleiros irão erguer o castelo de Belver.
Para aqui será transferida a administração e o governo da Ordem e, nos reinados seguintes, as doações sucedem-se um pouco por todo o país, não só para Sul, como também para a zona de Trás-os-Montes e Beiras.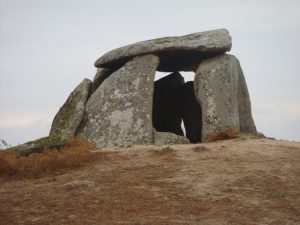 O apoio dado pelo Priorado do Crato, durante a crise de 1383-1385, ao partido de D. Beatriz, veio pôr em causa o poder e o prestígio angariados pelos cavaleiros hospitalários, ao longo das lutas da Reconquista. Com a ascensão de D. João I, a Ordem é "esquecida" e só voltará a ser reabilitada com D. Afonso V, em reconhecimento pelo apoio dado a sua mãe durante a regência de seu tio, o infante D. Pedro.
Com a política de centralização de D. Manuel, a Ordem elege o seu último Prior independente da coroa, D. Manuel de Noronha da Câmara. No reinado seguinte será o rei o responsável pela atribuição deste cargo, entregando-o a seu irmão, o infante D, Luís. Esta situação vai manter-se até 1789, altura em que a rainha D. Maria I consegue do papa Pio VI a Bula "Expedit Quam Maximc" que separa definitivamente o Priorado do Crato da Ordem Internadonal. Com esta medida transferem-se as prerrogativas espirituais para a Santa Sé e os bens terrenos para a Casa do Infantado, senhorio instituído por D. João IV, para os filhos segundos dos monarcas portugueses.[:]