[:en]
Portalegre – The origins of the city
When the kingdom of Portugal was formed, in the XII century, it is likely that in the valley that separates Penha de S. Tomé (Serra da Penha) from Cabeça do Mouro, there were houses that offered refuge and supplies to those that travelled through these lands. In this place of passage (porto), situated in a green and pleasant (joyful) region, the number of houses grew steadily constituting the city of Porto Alegre, which later became known as Portalegre.
Historical documents show that in 1229 Portalegre was a town of the council of Marvão and that in 1253 it was already the main town of the council.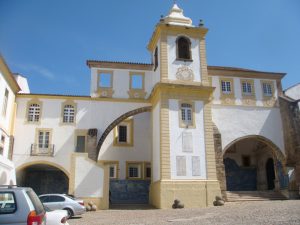 The 1st "foral" (town chart) was attributed by D. Afonso III in 1259. This monarch ordered that a fortress be built, but it was left incomplete. In 1271 D. Afonso III donated the towns of Portalegre and Marvão, and the manors of Vide and Arronches, to his second son, the infante D. Afonso.
When D. Afonso III died,  in 1279, the infante D. Afonso tried to succeed the throne claiming that his brother D. Dinis was an illegitimate son. This pretense wasn't taken seriously but it gave origin to disagreements between the brothers.
Portalegre was involved in this squabble and, in 1299, it was surrounded by D. Dinis. Portalegre remained surrounded for five months, until the surrender of D. Afonso. It is important to mention that D. Dinis surrounded the walls that he himself had ordered to be built in 1290. In fact, during this year, the king remodeled the alcazaba and the marble keep and built a second fence of which several parts still exist today.
It is thought that the tower, or watch-tower, that dominates the city, known by the name "Atalaião", was built before the fortification of D. Afonso III.
In 1299 D. Dinis gave Portalegre the privilege of not being  able to become the possession of a town lord "nor of an infante, nor of a rich man, nor of a rich-lady, but to be land of the King and his first heir".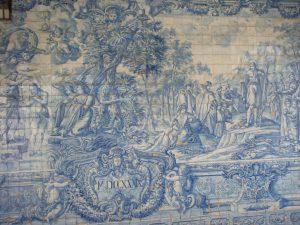 When king D. Fernando died, in 1383, D. Leonor became regent until her daughter was ready for succession and, consequently, D. João I of Castille, the husband, fact that would bring the loss of independence.
These events caused a division in the portuguese nobility: most of the nobility took the side of D. Leonor, while others followed the Master of Aviz, namely Nuno Álvares.  At this time, D. Pedro Álvares Pereira, Prior of Crato and brother of Nuno Álvares, was mayor of Portalegre and a strong supporter of D. Leonor. The mother of the Álvares Pereira, Fria Gonçalves, also lived in this town. In face of the positions taken by the mayor, the people of Portalegre revolted and surrounded the castle. As a consequence D. Pedro ran to Crato.
The ex-mayor would eventually die in 1395, in the battle of Aljubarrota, while fighting alongside Castille.
Meanwhile, the town kept becoming more important and, in 1549, through the workings of D. João III, pope Paul III sent a papal bull to create the new diocese of Portalegre (until  then the town was integrated in the diocese of Guarda). In 1550, D. João III wrote the royal letter that elevated Portalegre to the category of city.
This benefit was not fortuitous. It should be mentioned that Portalegre was, together with Estremoz and Covilhã, one of the main centers of the portuguese fabric and textile industry and that taxes over jewish possessions was higher than those in Porto and only lower than those in Lisbon, Santarém and Setúbal.
(text written by Prof. Doutor António Ventura)
[:pt]
Portalegre as origens da cidade
Quando a formação do reino de Portugal, no século XII, é provável que existisse no vale que separa a Penha de S. Tomé (Serra da Penha), do Cabeço do mouro, algumas casas que forneciam refúgio e mantimentos aos que por estas passagens viajassem. Neste Local de passagem (porto), situado numa região verdejante e aprazível (alegre), o casario foi aumentando, constituindo a cidade de Porto Alegre, que com o decorrer do tempo passou-se a designar Portalegre.
Os documentos históricos demonstram que em 1229 Portalegre era vila do concelho de Marvão e que em 1253 já era sede do concelho.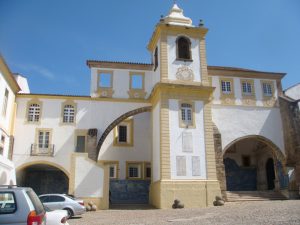 O 1º foral foi-lhe atribuído por D. Afonso III em 1259. Este monarca mandou edificar uma fortaleza que, contudo, ficou incompleta. Em 1271 D. Afonso III doou ao seu segundo filho, o infante D. Afonso, as vilas de Portalegre e Marvão e os senhorios de Vide e Arronches.
Quando faleceu D. Afonso III, em 1279, o infante D. Afonso pretendeu suceder-lhe no trono, alegando que D. Dinis era filho ilegítimo. Esta pretensão não foi tomada a sério mas deu origem a desavenças entre os irmãos.
Portalegre esteve envolvida nesta querela e, em 1299, foi cercada por D. Dinis. O cerco durou cinco meses, e depois D. Afonso rendeu-se. É importante referir que D. Dinis cercou as muralhas que ele próprio mandara edificar em 1290. Na realidade, neste ano, o rei remodelou a alcáçova e a torre de menagem e construiu uma segunda cerca de que ainda hoje existem bastantes troços.
A torre ou atalaia que domina a cidade, conhecida pelo nome de "Atalaião" admite-se que seja um pouco anterior à fortificação de D. Afonso III.
Em 1299 D. Dinis deu a Portalegre o privilegio de não ser concedido o senhorio da vila "nem a infante, nem a homem rico, nem a rica-dona, mas ser d' el-Rei e de seu filho primeiro herdeiro".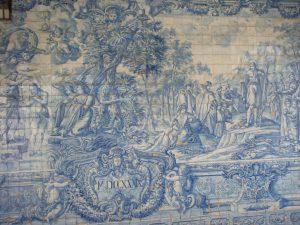 Quando em 1383 morreu o rei D. Fernando, ficou regente D. Leonor devendo suceder-lhe sua filha e, consequentemente, D. João I de Castela, o marido, facto que traíra a perda da independência.
Estes acontecimentos provocaram a divisão da nobreza portuguesa: a maior parte tomou partido de D. Leonor, enquanto outros seguiram o Mestre de Aviz, nomeadamente Nuno Álvares. Nesta altura era alcaide de Portalegre, D. Pedro Álvares Pereira, Prior do Crato, irmão de Nuno Álvares e ferrenho partidário de D. Leonor, vivia também na vila, numa casa do "corro", a mãe dos Álvares Pereira, Fria Gonçalves. Em face das posições assumidas pelo alcaide, o povo de Portalegre revoltou-se, cercou o castelo, tendo em consequência, fugido D. Pedro para o Crato.
O ex-alcaide viria a morrer em 1395, na batalha da Aljubarrota, quando combatia ao lado de Castela.
Entretanto, a vila foi adquirindo muito importância e, em 1549, diligências do rei D. João III permitiram que o papa Paulo III expedisse a bula que criava a nova diocese de Portalegre (até então a vila esteve integrada na diocese da Guarda). Em 1550, D. João III escreveu a carta régia que levou Portalegre à categoria de cidade.
Este beneficio não foi fortuito, basta referir que, nesta época, Portalegre era, juntamente com Estremoz e Covilhã, um dos principais centros da indústria de tecidos do país e que o imposto sobre as judiarias era ao do Porto e só ultrapassado por Lisboa, Santarém e Setúbal.
(texto da autoria do Prof. Doutor António Ventura)
[:]