[:en]26th February 2017 – Pre O – COUDELARIA DE ALTER
Map (New): Coudelaria de Alter – Scale 1/5.000, Contour Interval – 5m, according to the ISSOM rules.
Terrain: Typical terrain of Alentejo "montado", with small contours, some areas with olive trees and characteristic rocky features and vegetation. Most of the course will take place on a gritty path, with the risk of becoming muddy in case of heavy rain, making it difficult for wheelchairs to progress.
Cartographer: Tiago Aires and Raquel Costa (May 2016)
Course Planner: Filipe Dias and Rui Príncipe
Adviser: Joaquim Margarido
Classes: Open and Paralympic
Timed controls: 1X3
GPS: 39°13'20.2″N 7°41'10.7″W
Warning: The event takes place in a private area where entry is usually paid. Each participant must be identified with the bib number at the access control point.
Regulations:
Applicable rules follow the Portuguese Orienteering Federation's (FPO) competition rules for 2017; missing cases will be decided by the organization based on the IOF regulations.
| | |
| --- | --- |
|   |   |
Old Map – Coudelaria de Alter, (2010) – CHECK HERE
Arena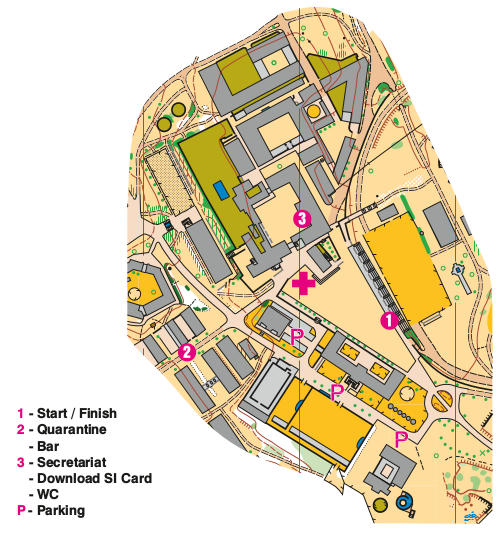 Other Information:
The organization will provide volunteers to assist competitors in wheelchairs during their displacement.
The deadline for submitting complaints is 15 minutes after publication of the results; the complaints must be delivered in the Secretariat.
There will be two timed stations, with a distance of 20 meters between each other and the tasks common to both. The viewing angle's variation between the two timed stations doesn't question the sporting justice.
Specifications:
| CLASS | LENGTH (m) | CLIMB (m) | CONTROLS | TIMED CONTROLS | MAP SCALE | CONTOUR INTERVAL | TIME ALLOWED |
| --- | --- | --- | --- | --- | --- | --- | --- |
| Open | 1570 | 10 | 23 | 1×3 | 1:5000 | 5m | 115 |
| Paralympic | 1570 | 10 | 23 | 1×3 | 1:5000 | 5m | 130 |
Time allowed in timed controls – 1 minute and 30 seconds.[:pt]26 Fevereiro 2017 – Pre O – COUDELARIA DE ALTER
Mapa (Novo): Coudelaria de Alter – Escala 1/5.000, equidistância 5m, segundo as normas ISSOM.
Terreno: Terreno típico de montado alentejano, de baixo relevo, com algumas zonas com oliveiras e elementos característicos rochosos e de vegetação. O percurso desenrola-se, na sua maioria, num percurso de terra batida, havendo o risco de ficar enlameado em caso de chuva, dificultando a progressão das cadeiras de rodas.
Cartógrafos: Tiago Aires e Raquel Costa (Maio 2016)
Traçador de Percursos: Filipe Dias e Rui Príncipe
Supervisor: Joaquim Margarido
Classes: Aberta e Paralímpica
Pontos cronometrados: 1X3
GPS: 39°13'20.2″N 7°41'10.7″W
Aviso: O evento realiza-se numa área privada onde normalmente é paga entrada. Cada participante deverá ser identificado através do seu peitoral no controlo de acesso.
Regulamento:
Aplica-se integralmente o Regulamento de Competições 2017 da Federação Portuguesa de Orientação (FPO); casos omissos serão decididos, pela organização, à luz do regulamento da IOF.
| | |
| --- | --- |
|   |   |
Mapa antigo –  Coudelaria de Alter do Chão (2010) –  VER AQUI
Arena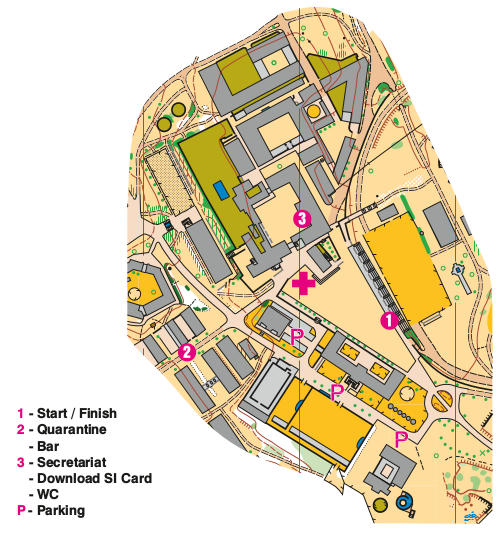 Outras Informações:
A organização disponibilizará voluntários para auxiliar na deslocação dos competidores em cadeiras de rodas.
O tempo limite para apresentação de reclamações é de 15 minutos após a publicação dos resultados, devendo as mesmas ser entregues no Secretariado.
Haverão duas estações cronometradas, com uma distância de 20 metros entre si e com os desafios comuns a ambos. A variação do ângulo de visualização entre ambas não coloca em causa a justiça desportiva.
Especificações:
| ESCALÃO | DISTÂNCIA (m) | DESNÍVEL (m) | CONTROLOS | PONTOS CRONOMETRADOS | ESCALA | EQUIDISTÂNCIA | TEMPO MÁXIMO DE PROVA |
| --- | --- | --- | --- | --- | --- | --- | --- |
| Aberto | 1570 | 10 | 23 | 1×3 | 1:5000 | 5m | 115 |
| Paralímpico | 1570 | 10 | 23 | 1×3 | 1:5000 | 5m | 130 |
Tempo máximo na estação cronometrada – 1 minuto e 30 segundos.[:]